Shopping Cart
Your Cart is Empty
Thank you for your business!
You should be receiving an order confirmation from Paypal shortly.
Exit Shopping Cart
HOURS: MON. - FRI. 10AM - 6PM, SATURDAY 10AM - 3PM, SUNDAY CLOSED
Andrew´s Fine Violins is full service violin shop with years of experience in restoring string instruments, that offers
restorations of all levels and difficulty.
LUTHIER - Andrzej Derkacz owner and restorer who for 8 years worked and studied at Kolstein Music under an eye of Barrie Kolstein and Jacob Cralidis. Also he has extended their experience in violin restoration by working at the String Shop of Arizona with Terrance McShane.
LUTHIER - VIOLIN MAKER James McKee found his passion for fine arts at a very early age. He graduated with a degree from the college of visual arts in St. Paul Minnesota. In 1999, James found his passion for violin making and restoration. He began his journey of learning the art of violin making with Jenny Becker where he studied repairs. He then attended the Chicago School of Violin Making where he learned the basics of violin making. He worked for the firm, William Harris Lee & Co and under the renowned maker William Whedbee for several years. He continues to make and repair instruments at Andrew's Fine Violins since September 2017.
- professional as well student bridge set up
- fingerboard leveling
- new peg fitting
- peg bushings
- new sound post fitting and adjustment
- touch up
- crack repairs
- inlay sound post patches
- new bass bar fitting
- new neck or neck graft fitting
- instrument varnishing and more
PROFESSIONAL BRIDGE SOUND POST PATCH
CLAMPING THE TOP NECK GRAFT
We believe that it is very important to preserve original varnish and do the touch up with minimum brush involvement.
As bad as it may look like, any damage can be repaired properly.
We always strive for the best quality while not braking the bank.
Please call us for a free quote
Our Low C-Extensions are affordable and come with Limited Lifetime Warranty.
Our Low C-Extension is affordable and comes with Limited Lifetime Warranty.
Please call us for a free quote
ALL REPAIR ESTIMATES ARE FREE
It is very important for best results, to have the repair done as soon as possible after the damage actually happened

Proper repair is crucial for integrity of the instrument and conserving the original sound.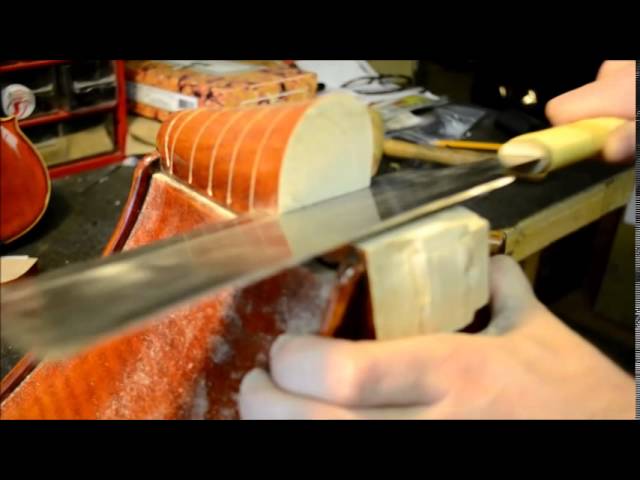 NICK VILLALOBOS BASS NECK REPLACEMENT

Touring around the world with his bass it is always
very challenging, no matter how much you will protect your instrument it is not if it will get damaged, but when.
Andrew's Fine Violins offers a wide variety of bow repair and restoration thanks to the great cooperation with bow maker Michael D'Avanzo. Michael is also a cellist at The Phoenix Symphony and he completed his Masters at the Julliard School.
Some of the services we offer:
1. Bow Re-hair (estimated time 3-5 days)
2. Face plate replacement
3. Bow straightening
4. Broken head repair
5. Eyelet replacement
6. Cleaning and polishing
/